11. Central Asia -- page 11 of 21
Rugs and Trappings of Central Asia: The Collection of Dennis Dodds and Zinaida Vaganova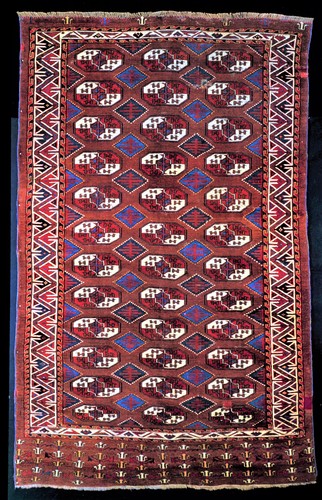 ABOVE: TURKMEN MAIN CARPET, Igdir tribe of the Yomut family, tauk nuska gul design, c 1800 and possibly earlier. The secondary diamond-shaped motifs in bright blue and green are colorful counterpoints and the skeletal cross-like designs inside are very rare.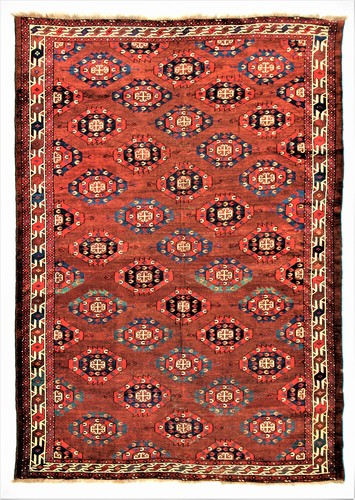 ABOVE: TURKMEN MAIN CARPET, Igdir or Ogurjali tribe, "C-gul" type, 18th century. Among the very best of this type, this rare carpet is noted for its spacious composition of serrated medallions arranged in diagonal rows. A deep green dye in some of them adds another special aspect to the overall high standard of the carpet.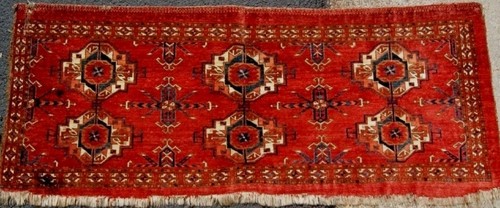 ABOVE: TEKKE, torba, an outstanding and early example of the 6-gol format with many features that set this apart as one of the best of its type. Circa 1800.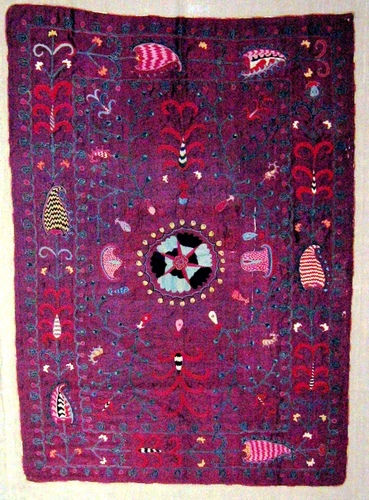 ABOVE: Fine nim (small) suzani from Shakhrizyabs in the region of Samarkand, Uzbekistan, c 1800. Delicate silk embroidery on purple silk ground. The size is 52 x 60 inches and is in excellent condition with only minor breaks and old mends. All sides are wrapped with the original red-white silk ikat. The back is missing. Published in ATLANTIC COLLECTIONS, Philadelphia, ICOC, 1996.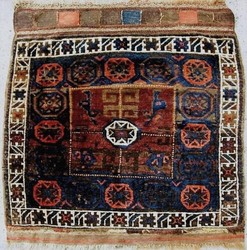 BALUCH, complete khorjin with back, circa 1900, 34 x 35 inches. SOLD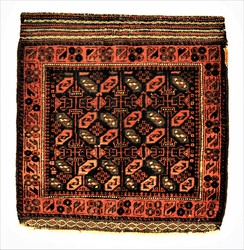 TIMURI, khorjin face with elaborate brocaded finihes, desirable design type,circa 1875, 23 x 24 inches.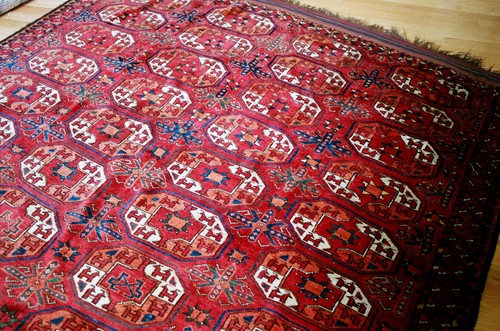 ABOVE: TURKMEN MAIN CARPET, Ersari tribe, tauk nuska gul design, c 1850-75, 6.2 x 11.9 feet